Forest Carbon are James Hepburne Scott, Stephen Prior, George Hepburne Scott, Sam Welsh, Eck Gordon, Michael O'Brien, Beth Kayser and Daniela Smith. We were founded in 2006.
George, Eck, Michael, Beth and Daniela work from our office space at Kingsford Business Club, 26 Dublin Street, Edinburgh. James is based in Wiltshire, Steve in County Durham and Sam in South Tyneside.
Co-founder James Hepburne Scott has many years of experience in the agricultural trading and finance sectors and is also a former farmer and sales director at one of the UK's largest commercial tree nurseries. James was Chair of the Scottish Forestry and Timber Association in the early 2000s and was among the first to identify a need for carbon funding to kick start UK woodland creation. James was President of the Royal Scottish Forestry Society from 2016 to 2019 and Chair of the Tweed Forum between 2015-2020. In 2016 he was awarded an Honorary Fellowship by the Institute of Chartered Foresters – an award with only 14 previous recipients. James was awarded an OBE in the King's New Year Honours list 2023 for his services to Forestry and the Environment in Scotland.
Co-founder Stephen Prior, a former secondary school headmaster in Zimbabwe, discovered a second vocation through his Durham University Business School MBA dissertation (a study of environmental economics and how carbon markets could work in the UK). His findings - presented to a side conference at the 2005 UN Climate Change Conference in Montreal - convinced him of the importance of woodlands in the effort to deal with climate change and environmental degradation, and of the potential for carbon woodland creation in the UK. Stephen was one of the architects of the UK Woodland Carbon Code, having been a member of its developmental Technical Advisory Committee, and a member of the Code's Advisory Board from its launch until early 2023. Stephen has also advised the government on the development of the Peatland Code and was a member of its Technical Advisory Board from its launch until 2022.
In 2016 George Hepburne Scott joined Forest Carbon as its new Business Development Manager. George is a qualified Chartered Surveyor and worked for Savills plc for 10 years in both Edinburgh and London. His focus was on the investment and development land sectors, and he worked on projects UK-wide on behalf of property companies, housebuilders, institutional funds and banks. George has had a longstanding interest in sustainable land use, and the preservation of our country's natural capital.
In December 2021 Sam Welsh and Eck Gordon joined the team.
Sam holds an MSc in Earth Sciences from Uppsala University, Sweden, where he focused on the use of GIS as a tool to research links between Glaciology and Climate Change. During his studies he interned at the UNFCCC, supporting the secretariat at the 2015 UN Climate Change Conference in Paris. Prior to joining Forest Carbon Sam has worked in the international voluntary carbon market, supporting large corporates on net zero strategies and financing emissions reduction projects around the world.
Eck came to us following work in both financial services and agriculture. Following a degree in Agriculture and farm business management from Newcastle University, Eck spent five years working in the insurance industry in London. With a passion for land regeneration, he has travelled around the world to gain a better understanding of the opportunities and challenges facing land managers. He has a particular interest in regenerative farming.
In May 2023, Michael O'Brien joined our team from the Geo-environmental sector. He holds an MSc in Environmental Management from the University of Stirling, where he specialized in studying Environmental policy, GIS, and statistical processing of environmental data. His research focused on the impact of a grassland-to-forest transition on local soil carbon stocks in Scotland. Prior to this, Michael worked across the globe as an environmental educator and ecologist in Ecuador, Tobago, Iceland, and Thailand, working on developing collaborative and sustainable solutions to environmental conflicts. These experiences have shaped his passion for addressing preserving our natural heritage for future generations by harnessing the power of emerging biodiversity markets.
Not long after Michael, in June 2023 Beth joined us as our Marketing and Content Specialist. Her background is in climate tech, having recently spent over 3 years with the corporate climate-action platform, Pawprint. Her route to the sustainability world has been anything but conventional, having trained in Theatre Dance in London before moving into copywriting and eventually content marketing at various agencies across the Big Smoke. Her roles in Pawprint – starting as Content & Impact Manager before side-stepping into a product-focused role – have allowed her to both 'take a look under the hood' of corporate net zero strategies and take the wheel on an SME's journey to B Corp certification (and all of the measurement and reporting that comes with it). These experiences support her as she endeavours to address the challenges and opportunities that Forest Carbon's customers face.
Rounding out the team (so far!) is Daniela Smith, who joined in August 2023. Daniela recently graduated with a law degree from the University of Edinburgh, where she chose both Environmental & Human Rights Law honours. Her degree and wider interests cemented a desire to support the delivery of nature-based solutions in the UK. Daniela also has a Carbon Literacy Certification, from the Carbon Literacy Project.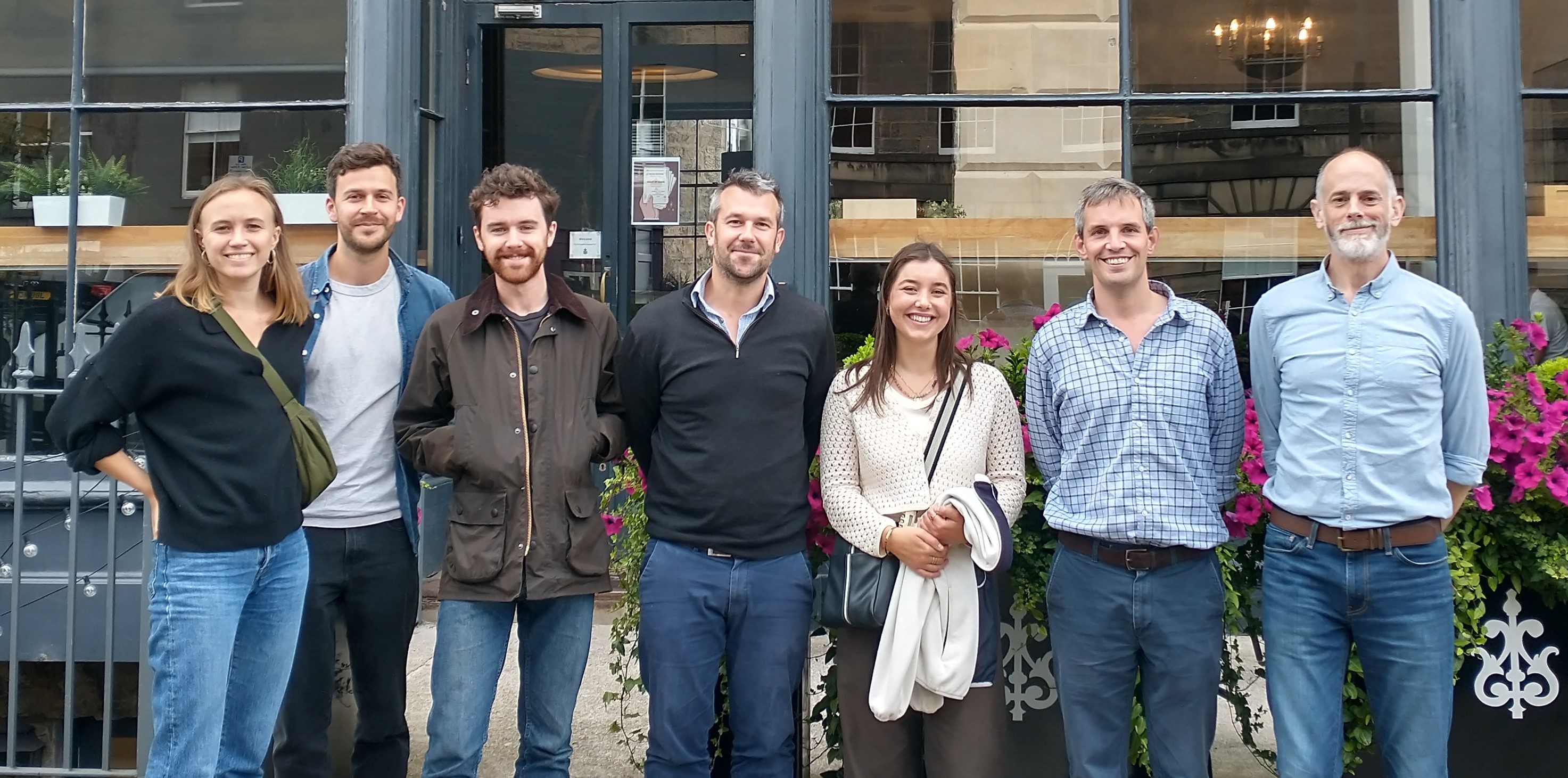 l to r: Beth, Sam, Michael, George, Daniela, Eck, Steve